INVESTMENS IN 2012
JSC "Macedonian Power Plants" continues its investment activities for the improvement and modernization of existing facilities and simultaneously, prepares for the construction of new facilities for electricity generation. In 2009 we started the largest investment cycle  since the company's inception, 37 million Euros, with a further growth of 50 million Euros in the following year. The trend continued in 2011 with approximately 61 million Euros and it culminated in 2012 with an investment of almost 100 million Euros.
MINES
Surface mine "Deep Underlying Seam Suvodol"
The area of the deposit is situated in the exploitation field of mine Suvodol and its spread over approximately 3 km2 or 1/3 of the entire area affected by the main coal seam (10 km2). The deep underlying complex is under the main productive seamof the deposit and there are 1-18  seams of coal. The average thickness of coal seams in the Deep Underlying seam is 14,97 m. Analysis and interpretation of the carried out research for examination of the DUS emphasizes it, as the most economically interesting of the two underlying seams of coal: I – underlying seam and II-underlying seam main seam of DUS respectfully.
During 2004, detailed geological and geotechnical research was  conducted  and technical documentation was prepared where all necessary parameters were obtained for geological construction, as well as engineering – geological and geo-mechanical characteristics. The research determined geological reserves of up to 55.000.000 tons of coal where exploitation reserves are 50.000.000 tones with overburden coefficient of 1:4,7 (m3/t).
The exploitation technology of the "Deep Underlying Seam"consists of continuous ETS systems with the utilization of newly supplied equipment for Surface Mine "Suvodol"and the supply of additional new equipment. Transport of coal excavated from DUS shall be executed  by the current conveyor belt  system used in the mine of Suvodol.
During 2012, the construction of drainage wells for SM "Deep Underlying Seam" were completed whereby accomplishing a very important moment process which will aid the future excavation and exploitation operations at the mine.
Coal deposit "Mariovo"
JSC "Macedonian Power Plants" – Skopje continuously and systematically takes appropriate measures for activities for additional exploration of potential deposits for coal exploitation within its development policy in order to timely accommodate for the  exploitation of coal reserves. During 2009 and 2010, AD ELEM carried out additional research and preparation of technical documentation (elaborates) for the coal deposit "Mariovo".
The prepared elaborates have characteristics of collective elaborates respectively, taking into account the research date of previously conducted processes while aiming to investigate and produce new updated information. The commissioning of the coal mine with underground excavation at "Mariovo" would also have a positive influence on the factors of economic passiveness and emigration that have been present in the area in previous years.
The man mining design for the mine with underground excavation in Mariovo was conducted by the Slovenian company, Premogovnik Velenje along with a study for environmental impact.
THERMAL POWER PLANTS
Revitalization and modernization of TPP "Bitola"
The Power Plant has been in operation for 20 years. The three units in TPP Bitola started with operation in 1982, 1984 and 1988 respectively. Each unit has a capacity of 225 MWe land consumes about 2 million tons of coal annually.
The Project includes three phases:
Revitalization and modernization of the turbines, generators and automation in TPP Bitola;
Revitalization and modernization of the boilers and decreasing of the  NOx  in TPP "Bitola"as well as  modernization of the cooling towers;
Revitalization and modernization of TPP "Bitola" with decreasing of  SОx and dust.
The Modernization and revitalization of the turbines, generators and the automation in TPP "Bitola" shall extend operational lifetime of TPP "Bitola" for 120.000 hours, the flowing part of the boilers shall be modernized, turbines and protection systems shall be regulated and modernized, parts of the generator shall be modernized, dynamic diagnostic monitoring of the unit shall be modernized, technological processes in TPP shall be automated, the coefficient of utilization shall be increased,  and the power capacity shall be increased for additional 8,32 MW per unit or 24,96 MW for TPP.
Modernization and Revitalization of the boilers and reducing of NOx  in TPP "Bitola" as well as the modernization of the cooling towers
Revitalization of boilers is expected to:
Increase the CU (coefficient of utilization) of boilers, i.e. providing production of 700 t/h super heated steam(5450C, 140bar), with decreased and variable coal quality;
Examination, determining of existing condition of heating areas, replacing the same in accordance with examination results, and at the same time, extending their life time for 120.000 hours;
Examination and modification of the system for preparation of coal dust, aero mixture, as well as combustion system in order to provide reduction of NOx during work with coal with variable and lower quality. After this has been accomplished  NOx emissions   should not be higher than 200mg/Nm3 (in accordance with  Directive 2001/80/EC)
The Contract for modernization of boilers and reducing of NOx for the three units, which has been signed with Babkok Borsig on 16.12.2011, is in the ongoing  phase. The Modernization of the boiler and reducing of NOx of unit 3 has been finished in 2012.
Modernization and Revitalization of TPP Bitola with reducing of SОx and dust particles
The last, third phase from the Modernization and revitalization of TP Bitola is in its initial stage. Therefore, a Feasibility study by Yokogawa Electric Corporation has been prepared. The Feasibility study was initiated in September 2011, and the final version of the study will be submitted to JSC ELEM in April 2012.
This project will be within the criteria of operation emissions for SOx and dust, according to the EU Directive for this type of plant.
Heating of Bitola, Novaci and Mogila
Concerning the technical characteristics of the equipment, technological concept, location (close to a settled area), as well as  the experience from similar TPPs, there is a serious knowledge base for taking into account the possibilities for providing heating for  Bitola, Mogila and Novaci. Rural communities Mogila and Novaci shall be able to use the heating energy for green houses.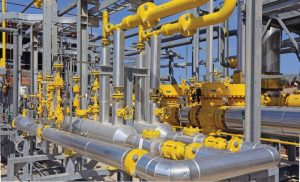 Reconstruction of the turbines of one of the thermal units in REK "Bitola" was finalized in 2012 and it cost 2 million Euros. During the modernization of turbine unit 3, the entire regulated subtraction of steam was enabled by embedding of protection for new overcurrent pipelines between cylinders for high and low voltage and it shall be undertaken in TPP "Bitola 2" as well. After the preparation of project documentation, AD ELEM shall begin with the construction of a heating grid.
The Implementation of this project shall be a considerable substitute for electricity used for heating purposes, which will increase the reliability of the distribution grid. Use of oil and trees for heating shall be decreased which will simultaneously decrease the emission of greenhouse gases.
HYDROPOWER PLANTS
HPP "Boskov Most"
HPP Boskov Most is a complex hydro energy system, which provides an entire exploitati of  the  possibility  of the hydropotential of river Mala Reka,  respectively its affluents Tresonce, Rosoki, Lazaropolska Reka, Valovnica, Garska, Zvoncic and Belesnica, and its basin are situated in the west part of the Republic of Macedonia.
In  2002 the Paul Rizzo & Associates Company from Pennsylvania, USA, made a Feasibility study, which suggested a basic conclusion that, in order to increase the cost-effectiveness of the HPP Boskov Most Project, it is necessary to increase the installed capacity of the Power Plant, from 45 MW, as it is defined in the previous Preliminary and Main Design, to 70 MW; where the increased installed capacity would be achieved by using the same amount of water from the intakes and the storage, i.e. without any changes of intake water quantities in the basin, but with plannin of production units with highercapacity.
We announced  a prequalification notice during 2012. In June, MEPSO prepared the Analysis for the connection of HPP "Boskov Most" to the transmission grid, and a Draft- study for connection of HPP "Boskov Most" to a transmission grid in December. In October 2012 we received a decision by ESIA (ESIA-EnvironmentSocialImpactAssesment). We prepared tender documentation for electric-mechanical equipment and afterwards, we announced a tender for electrical and mechanical equipment and prequalification for LOT 1and LOT 2 – civil engineering works were finished and a report was submitted to bidders.
Revitalization of HPP – second phase
Project "Revitalization of HPP – second phase" includes the following activities:
Rehabilitation of generators – HPP "Vrutok"
Unit transformers – HPP "Vrutok"
Regulation transformers – HPP "Vrutok"
35kV transformer – HPP "Raven"
Replacement of hydro-mechanical equipment (gates, aerationvalves, system for lubrication of bearings, system for cleaning of entrance trash rack) – "Mavrovo"system
Heightening of dam Leunovo
Revitalization of Toljane tunnel, Sarski channel and the intake of Sarskivodi
Revitalization of the grouting curtain – HPP "Spilje"
New monitoring equipment of dams (Mavrovo, Globocica, Spilje, Tikves)
Along with the accomplishment of the planned activities, the entire installed capacity of the hydropower plants in the systemof JSC ELEM shall be increased for 18,31 MW, as well as an additional production of electricity of around 50 GWh.
In  2009, a  Protocol was signed between the governments  (MK/Germany), which is secured by 60 million Euros for the energy sector in the Republic of Macedonia, out of which 27.1 million Euros for the Revitalization Project of Hydro – Phase II.
The following activities  were realized in 2012:
Tender LOT A for automation of dam auscultation.  Generation and delivery of equipment by a contractor is  continuously conveyed. Civil engineering works for placing of cables at Mavrovo dam are finished.
Tender LOT B1 for revitalization of Gorna Radika canal. In 2012 contractor Beton finished canal revitalization.
Tender LOT B2 for revitalization of Sarski Vodi canal. Contract with Beton, Skopje is signed on 23 July 2012.
Tender LOTB 3 for heightening of dam Leunovo. Evaluation of tenders is finished and contractor is selected.
Tender LOT B4 for revitalization of Toljane tunnel. Final report for evaluation is approved by KfW bank.
Tender LOT B5 for grouting curtain in Spilje. Contract with Strabag and GIM – Skopje is signed. Contact grouting is finished in the gallery and other activities are ongoing.
Tender LOT 1 for generators. Main design is prepared. Production of parts for generators is ongoing.
Tender LOT 2 for transformers. Main design is prepared and approved by ELEM. Contractor started with equipment generation.
Tender LOT 3 for valves. Contract is signed in November 2012 with Litostroj from Slovenia. Contractor started preparation of basic design.
Tender LOT 4 for gates. Contract is signed in November 2012 with "IskraImpuls" from Slovenia. Contractor started preparation of basic design.
Tender LOT 5 for trash racks. Contractor is signed in November 2012 with "ErhardMuhr" from Germany. Contractor started preparation of basic design.
Lukovo Pole
The storage "Lukovo Pole" is located in the northwest part of Macedonia at the border with SharPlanina and the Korab massif. The main quantities of water, about 45,95 х 106 м3, or with average annual discharge of Q = 1,457 м3/sec in the future storage will be collected from the r.Crn Kamen where construction of a rock filled dam with a central clay core is planned.
The Dam "Lukovo Pole" is located at r. Crn Kamen in its upper part, namely close to the inflow of  both rivers that are forming the r. Crn Kamen. It is planned to be 71,00 m in height  and allows storage with a total volume of 39 х 106 м3 of water and a useful volume of 38 х 106 м3 of water that will generate 104,24 GWh electricity annually. Within the catchment of the Korab waters, construction of the headrace channel in length of about 15 km is planned and it shall intercept the Korab waters from the first intake Potok 3 to the inflow in the storage "Lukovo Pole" with a total annual flow of about 29,328 х 106 м3 or with an average annual flow of Q = 0,930 м3/sec.). The intake of the Korab's water is located in the northwest regions of Macedonia and it is spread along the entire length of the Korab massif, at an altitude  of about 1620,00 m above sea level.
Preparation of technical documentation was accomplished during 2012 and, simultaneously with the elaboration of the project, a Social and Environmental Impact Assessment Study was prepared and it is in its final phase. Due to its necessities, many public consultations with NGOs and stakeholders were held including the affected municipalities.
RENEWABLE SOURCES OF ELECTRICITY AND ENERGY EFFICIENCY
Wind Park
The Realization of Project Wind Park (WP) "Bogdanci" started in April 2011 with the signing of a Loan Agreement with the KfW Bank, Separate Agreement and Guarantee Agreement and adopting of Guarantee Agreement of Republic of Macedonia by Government and Parliament of Republic of Macedonia. The  loan amounts to  32.900.000 Euros. The value of the project WP "Bogdanci" was estimated  at approximately 55.500.000 Euros.
The Consultant for the project is the German company FICHTNER . A Contract with Consortium TERNA – SIEMENS was signed for LOT 2 – construction of access roads, platforms, MV cabling and a transmission line from SS "Bogdanci" to SS "Valandovo" in January 2012. A Contract with SIEMENS – Denmark was signed in August 2012 for LOT 1 – construction of fundaments for wind turbines as well as supply, transport and assembly of 16 wind turbines with a capacity of 2,3 MW. A Contract with DASS Engineering – Macedonia was signed for LOT 3 – equipment in SS "Valandovo" for connecting of WP "Bogdanci" to EPS of Republic of Macedonia in December 2012. During 2012 we concluded Contracts for Lot 2 – construction of access roads, substation and transmission line for connection of EPS of Republic of Macedonia – January 2012. We provided permits for the construction of main access roads and substations. Furthermore,  In august 2012 we concluded the Contract for Lot 1 – supply of equipment, and in December we concluded a Contract for LOT 3 – expanding of SS "Valandovo".
The Project "Wind Park 'Bogdanci'" is registered in UNFCC and in accordance with the clean development mechanism as of  November 2012.