In TPP Oslomej it is going to be built photovoltaic plant, investment of 7 million euros
Previous coal deposits in TPP Oslomej for about a year should be covered with with 10 megawatt photovoltaic grid. At the location it will be built photovoltaic plant, in which will be engaged and employees in the plant after having appropriate education.
– It is about the first facility if the JSC ELEM portfolio that will produce electricity from photovoltaics. The projected annual production is 15 GWh, which is enough to meet the electricity needs of about 2.000 households in Republic of Macedonia.  The investment value is 7 million euros, of which 5,9 million euros are EBRD loan, while the remaining funds are provided by JSC ELEM from its own operation.
This project will be built on an area of ​​15 hectares; on the site of the mine Oslomej is significant, not only in terms of energy values, but also from the social aspect, and in the context of environmental protection. The photovoltaic power plant is not the only project of JSC ELEM, but in the company we are preparing two more, about which the public will soon be informed, said after signing of the Loan agreement, the general manager of JSC ELEM Dr. Dragan Minovski.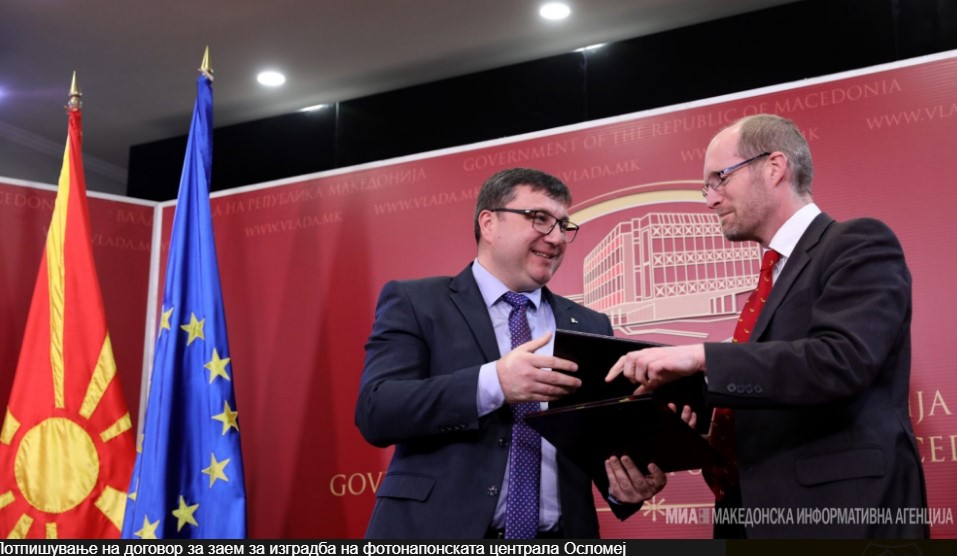 As the director for energetics and energetic capacities EBRD Harry Boyd Carpenter noted, the project is one of the most important for Macedonia and the region as a whole because of the future in the renewable energy.
We used to say that you have a choice to have clean energy and to have cheap energy. It is no longer the case, the energy sector is changing, solar and wind energy are changing every day and with well organized market you can have clean and cheap energy – said Carpenter
According to Deputy Prime Minister for Economic Affairs Koco Angjushev, this is an example how an already forgotten object as Oslomej, who with few exceptions almost hasn't worked in recent years will turn from environmental pollutants in the production capacity of electricity.
Government according the Law on Energy, which a way for investment in renewable energy has opened , will be dedicated for installment to as much as possible megawatts of installed capacity in renewable sources of energy which, unfortunately, are the only energy resource in the country, announced Angjushev, pointing out to the fact that from the Sun have been used only 16 megawatts.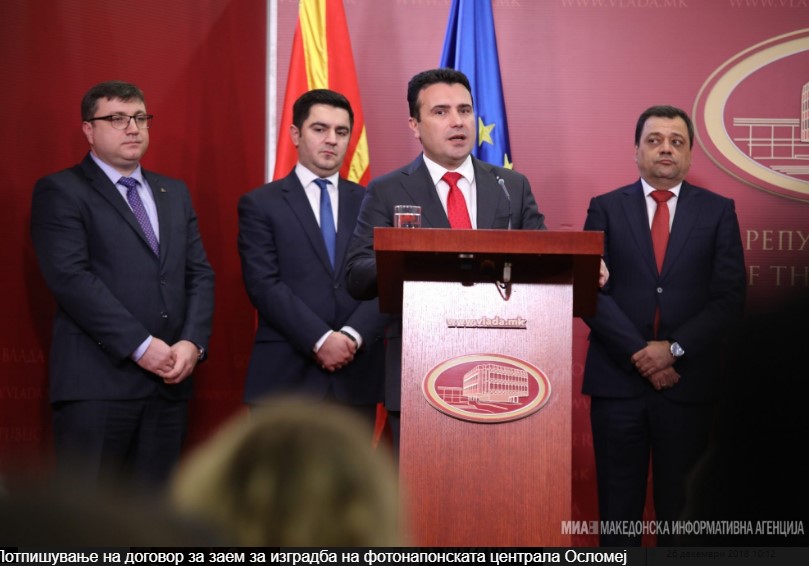 The Prime Minister of the Government of Republic of Macedonia Zoran Zaev, has also marked that this is extremely ecological project because through a state investment is putted into operation the sun as a huge resource.
It is significant that the state takes the first step in what follows for investments in more than 200 megawatts of photovoltaic plants and photovoltaic system, which  for that are preparing multiple locations across the country through public-private partnership or concession for all interested for investments in such renewable energy sources – said the Prime Minister Zaev.